In the modern world of polymer business, Swati Plastic is one of the most trusted brands in the plastic industry in Ahmedabad, Gujarat, India. We are considered to be leading manufacturer and supplier of world class polymer products at the doorstep of the customer. We are providing PVC bib cock & sanitary fittings such as test-tap cock, handi cock half turn, pan cock heavy, 2 pin harni bib cock, polo cock, fancy bib cock and angle, gold bib cock,fancy nozzle cock, turbo bib and angel cock, crystal bib and angle cock, crystal nozzle and washing machine cock, push cock, PVC jali, flow and waste pipe, plug, ptmt connection pipe, fancy 3 star bib cock and waste coupling, which all are available in ready to ship condition.
Established in the year 2010, we are an ISO 9001:2008 certified manufacturer and supplier of high quality of PVC bib cock & fittings. We are manufacturing the cocks which are 100% virgin plastic material in accordance with the set international quality regulations. The anti corrosive plastic material does not decay over the time and the perfect sizing does not cause leakage over the time, hence our products guarantee for longer and leakage free experience spanning the life. Today, we are reputed in the market as a most trusted manufacturer of Plastic bib cock & fittings and that is the real earnings for us.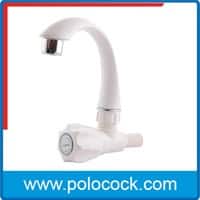 Our firm has gained the best industry engaged in manufacturing and offering the best Polymers for valued reasons. Since the very first day, the organization has been working hard to offer the best quality of plastic cocks at the best reasonable price. In spite of the increasing require for polymers in daily life, delivering the best quality product at any cost is assured by Swati Plastics.